Have you been waiting 😔 for another chance to use your scary 👻 keys🗝️? How they are back in the game 😉! Participate in our Halloween 🎃 chests and win the gorgeous Vladimirskaya church ⛪:
Requirements: These chests will be received by players level 15+

The main reward is the Vladimirskaya Church! (4,700 coins, 1-4 energy, 1-5 candies every 23 hours, size 6×9, can be placed anywhere)
Each chest can be opened for
9 Scary keys.
There are 3 ways to get Keys:
1. Completing the quest:
Magic Keys I (3 keys)
Collect 17 Jugs (Bakery, Upgraded Bakery)
Collect 8 Planks (Cargo Port)
Ask friends for 5 Winter hats
Magic Keys II (3 keys)
Collect 6 Foils (from friends' cities – buildings with a clock or coin)
Collect 22 Rakes (Summer House, Upgraded Summer House)
Collect 18 Snowboards (Shoe Shop, Upgraded Shoe Shop)
Magic Keys III (4 keys)
Collect 18 Packs of Seeds (Flower Kiosk, Upgraded Flower Kiosk)
Collect 13 Satin flowers (Premium Cottage)
Collect 6 Hockey sticks (School, Valley School)

2. Collect profits from the following buildings:
Bridge (1 key every 24 hours);
Beauty Fair (1 key every 8 hours);
Tatar Puppet Theater (2-4 keys every 24 hours);
Basilica of the Sacramentinos (2-4 keys every 24 hours);
Plawniowitz Castle (2-4 keys every 24 hours).

3. Use the sale offer!

Special offer with the Vladimirskaya Church chest event
The Tatar State Puppet Theater 🎭 is the largest and one of the oldest puppet theaters 🎎 in Russia 🇷🇺. Located more exactly in the marvelous city of Kazan, the theater dates back to 1934 and its building 🏰 is a wonder that has enchanted many generations of children🧒!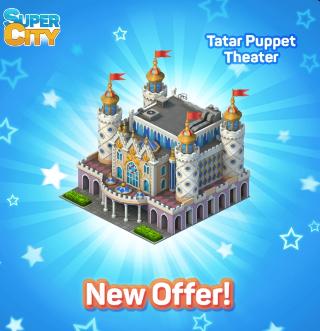 Tatar Puppet Theater: 4,800 coins, 2-4 energy, 2-4 candies, 2-4 scary keys every 24 hours during the Vladimirskaya Church chest event;
Plawniowitz Castle: 4,700 coins, 2-4 energy, 1-5 candies, 2-4 scary keys every 24 hours during the Vladimirskaya Church chest event;
Basilica of the Sacramentinos: 4,500 coins, 1-4 energy, 1-5 candies, 2-4 scary keys every 24 hours during the Vladimirskaya Church chest event;
Pennsylvania Academy of Arts: 3,850 coins, 1-3 energy every 22 hours;
Lyon Cathedral: 4,100 coins, 1-3 energy every 22 hours;
Armour-Stiner House: 4,200 coins, 1-4 energy every 22 hours;