Mayors, a new season of archaeological 🧐 expeditions has started! 🤗This time, we will go to Incredible 🌍 Africa to collect a unique exposition for our museum.
Remember: We have bonuses🙌 for exhibiting certain expositions. You will see some displays marked with a unique sign, and if you collect these expositions and display them in the rooms, you will receive a 😻 bonus reward!
It's time to go on exciting new adventures with Victor Rich!
Archaeological expeditions last 9 days. There are 6 maps in total for expeditions. They repeat endlessly but with each transition they are updated – you can re-collect resources from them. This will help you collect the necessary items sooner!
There is a number of tasks on every map. When you complete the tasks you receive tiny shards that you can use to restore the museum exhibits in the Archaeological museum.
The Archaeological Museum is located in your city and remains where you decide to place it. It will remain there after the completion of the expeditions and will bring you profit.
Players can only exhibit 3 expositions in the Museum at the moment as there are 3 rooms available in total.
When you remove obstacles on the map you:
– get points for the Club's excavations
There are 2 tabs in the club's excavation plan:
– Club aims: these are the aims of your club for the whole expedition
– Excavation intensity: these are the daily resettable goals for the expenditure of expeditionary energy by the club members.
Club Aims: You need to be a member of a club and collect a minimum of 10 points to participate in a club aim. After that, the more points the club members collect, the more prizes the club will be able to receive: expedition energy, seasonal currency, marathon cards, superbucks and artifact fragments. The main prize for the club excavation is the Somba tribe home (gives 3600 coins, 1-5 energy, and 2-5 candies every 22 hours).
Excavation intensity: You need to be a member of the club and spend the expedition energy. The more energy is spent by all club members, the more bonus energy from expeditions they can get. Note that:
– each player has a limit on the energy spent per day that is recorded. If you spend more energy, then it no longer goes into the total count for a day;
– the timer is reset daily at midnight UTC;
– to receive bonus energy, you need to click on the "Get" button – energy is not added to you automatically! If you have not clicked the button you will not be able to receive energy.
– collect valuable finds to get Tolek construction (task icon is visible in the expedition location only)
To get Tolek construction you need to collect 2500 valuable finds. Please note that this building is optional and is not a part of the collection of the Archaeological Museum. It's just a separate house that will bring you additional in-game bonuses (3900 coins, 3-5 energy, 3-4 candies and 1 needed item every 22 hours):
– bring points to your club in the Clubs' tournament
At the end of the competition, the clubs with the most points will receive banners that will bring bonuses to each club member within 16 days.
– get resources that you need to complete the tasks in the expedition
For successful completion of tasks, you will receive Tiny Shards, which are necessary to restore the exhibits of the Archaeological Museum.
In the expedition you can also get an artifact fragment (for club activity in the Club Excavation).
This item can be used to reduce the number of tiny shards that are required to restore an exhibit in the Archaeological Museum. Do not forget to click to activate!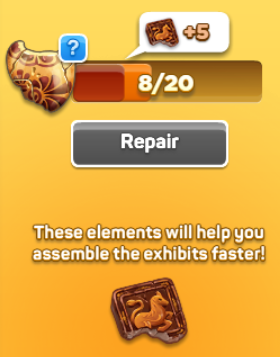 ATTENTION! If you have moved to the next location, then you cannot go back. After moving to a new location, all objects must be rebuilt.
Players get access to a new room: Incredible Africa!
If you didn't have time to finish collecting any of the exhibits in the previous rooms last time, then you can complete the collection this time!
As soon as you collect an exhibition it will give you an extended bonus for 16 days – do not forget to put it on display, the countdown starts immediately after you restore the last exhibit!
For the Archaeological Museum, you will need to collect fragments of exhibits in the expedition and restore the exhibits available there. In total, there are 7 exhibits in the Incredible Africa:
Lozi people bowl (1 candy every 24 hours)
Bata drum (1 energy every 24 hours)
Dan tribe mask (300 goods every 24 hours)
Surma people dress (1000 coins every 24 hours)
Masaai warrior shield (2 energy every 24 hours)
Luba people statue (3 candies every 24 hours)
Great Mosque of Djenne (2 candies every 24 hours)

Bonuses
In the bonuses tab of the museum you will see the bonuses that will be active for the current expedition as soon as you complete all requirements. Requirements are the following:
– there are 3 expositions in the expeditions that have a special badge, these are the expositions of Increased Interest.
– you need to restore all exhibits in these expositions and put these expositions on display in the Museum to activate the bonuses
– there are 3 bonuses in total
– if you have 1 full exposition of increased interest on display you activate the 1st bonus, 2 full expositions of Increased interest on display you activate the 1st and the 2nd bonuses, if you have 3 full expositions of increased interest on display you activate all 3 bonuses:
– expositions of Increased interest change every expedition
– if you have not collected the whole exposition and did not put it on display the badge is transparent.
– as soon as you collect the whole exposition and put it on display the badge turns bright.
To activate all 3 bonuses you need to have all 3 badges bright – it means all 3 expositions of Increased interest collected and put on display.
The expositions of increased interest for this expedition are:
Beauty of India, Mayan heritage, and Incredible Africa
Bonus task
There is a chance to win even more rewards in the expedition.
On the right side of the screen you will see a special icon.
You need to assemble all exhibits of the Incredible Africa exposition before the expedition ends and you will receive a Golden Masaai shield that will provide you in-game bonuses (1-3 superbucks and 1-3 candies every 24 hours) for 16 days.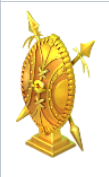 Communication van
On every expedition map you will find a communication van – it's an extremely convenient way to get to your Archaeological museum as you will not have to leave the expedition location. Just click it and the museum will open.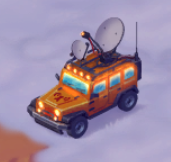 Archaeological Museum Upgrades
The museum can be upgraded in the Upgrades tab.
Players can only exhibit 3 expositions in the Museum at the moment as there are 3 rooms available in total.
To upgrade the Museum you need:
Plywood sheets
Facing stone
Stanchion

These items can be found in the Mobile stand in the expedition. Mobile stand does not require restoring and is available on every map.
You can also receive some extra energy for the tasks in the mobile stand.
As soon as you have upgraded the Museum to the maximum level the plywood sheets, facing stone and stanchions are no longer available in the mobile stand.
Upgrade stages of the Archaeological Museum:
Archaeological Museum – 1 exhibition room
– Upgraded Archaeological Museum – 2 exhibition rooms
– Extended Archaeological Museum – 3 exhibition rooms
Field kitchen
There is a field kitchen on every map. It should be restored on every location every time.
After restoration you can make energy cans there. Do not forget to collect them before moving to a new location.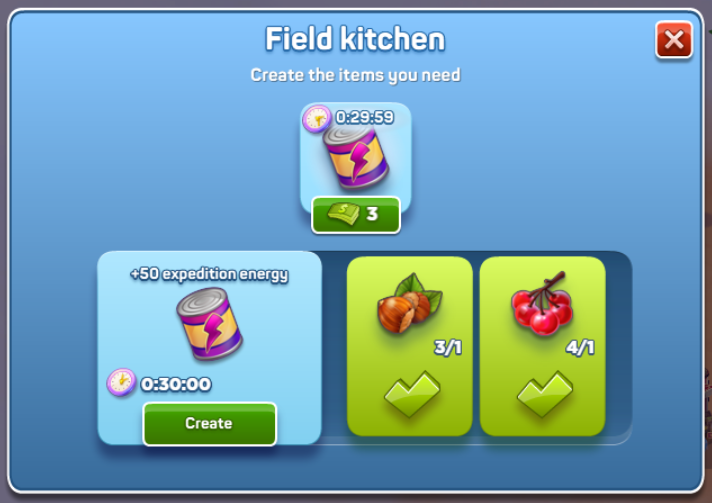 Let's go!